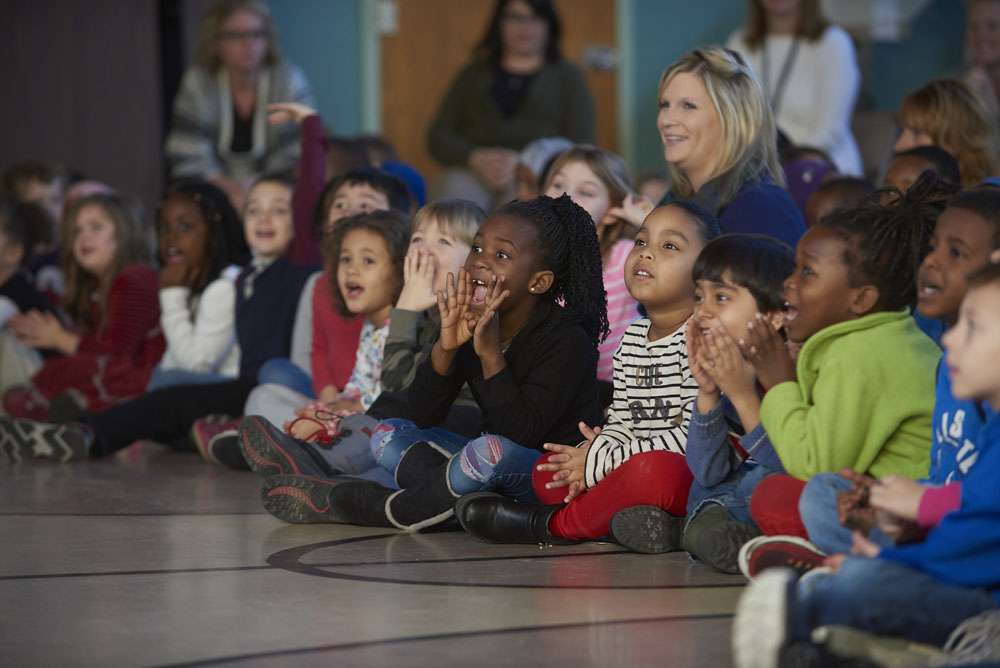 Virtual Education Resources
Learn About Theater From Home!
With our community staying safe at home in the early phases of the pandemic, Portland Stage created a variety of virtual education resources to continue engaging young people, families, teachers, and students. Resources include: Tutorial Videos, Games to Play at Home, Follow-Along Videos, and other Interactive Activities. These resources are designed to get your bodies and creativity moving, all from the comfort of your own home! 
Each resource is accompanied by an age recommendation for ease of access, but you know your students & kids best.
Video Tutorials
Learn new skills through engaging tutorial videos on juggling, lighting, & model building.
Model Building Tutorial
Best for Grades 3-12
At-Home Lighting Design
Best for Grades K-12
Juggling with Madi Pt. 1
Best for Grades 1-12
Juggling with Madi Pt. 2
Best for Grades 1-12
Juggling with Madi Pt. 3
Best for Grades 1-12
Warm Ups & Activities
Use your voices, bodies, and imaginations with these follow-along warm-ups and interactive activities.
Physical Warm-up with Kali Quinn
Best for Ages 8-Adult
The Banana Song
Best for Ages 2-10
The Ma Game
Best for Ages 2-10
The One Room Play
Best for Grades 4-12
Theater Games
Learn theater games to play at home! Perfect for families, friends, housemates, and virtual classrooms to get you moving, thinking, creating, and collaborating while staying safe at home.
Games to Play on Zoom
Best for Grades K-Adult
Hacky Sack Challenge
Best for Ages 3-Adult
The Clapping Game
Best for Ages 3-Adult
Modifiable for younger ages.
Storyteller Interrupter Improv Game
Best for Grades Pre-K-Adult
1,2,3 Game
Best for Grades K-Adult
Play Theater Bingo!
Best for Ages 6-Adult
To get BINGO: Complete 5 of the activities arranged in a line – horizontally, vertically, or diagonally.
To start: Choose an activity from the grid. Then decide which direction to go from there (up/down, to the side, or following the diagonal), choose the next tile, and keep playing until you have a line of five!
Who to play with: Play on your own, with your quarantine pals, or challenge friends from afar to a race to BINGO!
Share your accomplishments: Send pictures and videos of you completing the challenges to Portland Stage's Education Department.
What is a creativity/imagination space? This is a "choose your own adventure" tile. Come up with your own creativity challenge to earn this tile.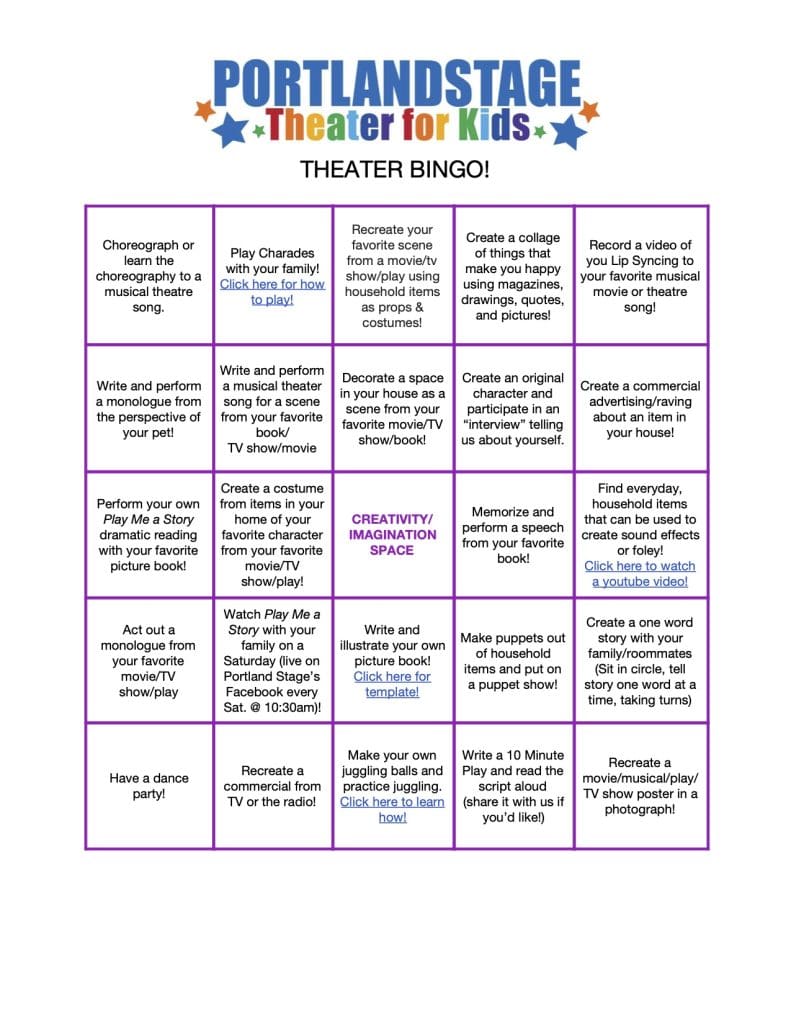 Backstage Tours of Portland Stage
Costumes
Sets
Props
Run Crew