2020 Clauder Competition Grand Prize Winner and Massachusetts State Winner
THE LAST SHIP TO PROXIMA CENTAURI (2021)
PLAYWRIGHT Greg Lam
DIRECTOR Sally Wood
The Earth has become uninhabitable. The last escape ship from Earth (Seattle, to be exact) arrives at its new home centuries after all the others. The pilots are not prepared for what they find there: A planet full of unimpressed people of color who are not happy to see them.
The Last Ship to Proxima Centauri asks us to examine 21st Century America through the lens of futurist neo-colonialism, 2000 years after the end of Must-See TV.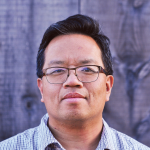 Greg Lam is a playwright, screenwriter, and board game designer who is a transplanted Bostonian now living in the Bay Area. He is the co-creator of the "Boston Podcast Players" podcast (bostonpodcastplayers.com) Boston's virtual podcast stage for new works by local playwrights. He is the co-founder of the Asian-American Playwright Collective and a member of The Pulp Stage Writer's Room.
Morris Emerson Tom Ford*
Adelaide "Addie" Russell Moira Driscoll*
Henry Hirano Galen Sho Sato*
Tunde Brooks Brantly*
Paz Sol Marina Crespo*
*member Actors' Equity Association
Director Sally Wood
Asst. Director/Stage Manager/Stage Directions Zach Elton