The Portland Phoenix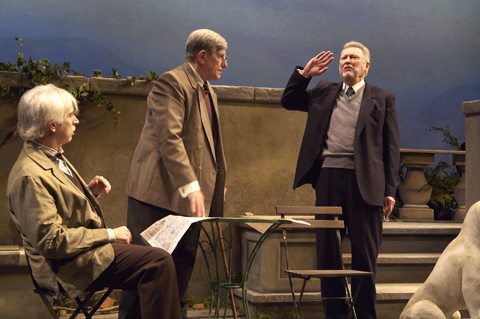 CROSSING OVER The three heroes of Heroes.
In one sense, time is the most plentiful possession of World War I veterans Gustave (Edmond Genest), Henri (Munson Hicks), and Philippe (Philip Goodwin), who live together in a military retirement home in the French countryside. In another sense, as they know all too well, their time is ever shorter. The juxtaposition is the heart of Heroes, Tom Stoppard's adaptation of Gérard Sibleyras's light, slow, sweet comedy about aging, Le Vent des peupliers ("The Wind in the Poplars," literally). It is produced by Portland Stage Company, under the direction of Paul Mullins.
The three heroes of the title spend their long days on a certain favorite terrace, which they jealously guard from the intrusions of other residents, discussing the conspiracies of the nuns, the loveliness of the neighbor schoolgirls and their young teacher, and the question of whether the stone dog on the terrace is or is not animate. All three have their quirks and infirmities: Philippe still holds shrapnel in his head and is prone to fainting spells; the "born enthusiast" and bon vivant Henri has a limp; and Gustave, for all his ostentatious posturing, has become paralyzingly agoraphobic. And because all three feel trapped in quotidian banalities, in the face of their numbered days, they plan a last adventure: Escape from the retirement home — along with the stone dog — to the hill where poplars sway in the wind with seductive freedom.
The tone of their conversation and foibles moves between whimsically comic and gently lyrical, with dashes of salt: From grumblings over Sister Marguerite (suspected of offing people when more than one man share the same birthday), they shift easily into reveries — of the poplars, of "slim-ankled girls all around me like starlings" — with the occasional earthier quip: "Personally," Philippe remarks about relations with the fairer sex, "I think making them laugh is as important as making them climax." But never tell her that, scoffs Gustave: "She'll think you're going to divide your concentration and she'll drop you just like that."
Their verbal follies and mild physical comedy play out over yet another beautifully designed set by Anita Stewart, with a long terrace, faintly mossed with age and set with plants and simple patio furniture, and the soft, indistinct blues of a country sky behind (lighting design by Gregg Carville). The men clothes show their care and innocent vanity about their appearance in their ties, wool vests, and jackets, with Henri sometimes sporting military metals (Hugh Hanson's costume design).
The actors, all Equity, make distinct, affectionate eccentrics of the aged soldiers. Genest's Gustave has a warm, rascally streak, and Hicks nicely balances Henri's pompous pedantry with his deeply concealed trauma. Goodwin, with his slight frame and wispy white hair, is a perfect embodiment of the frail and easily distracted Philippe; as time wears on and his spells increase, he practically seems to blow in the breeze. Their rapport shifts easily through skirmishes, absurdity, fraternité, and silence, and the warmth of their laughter together is quietly affecting.
Stoppard fans should note that Heroes is his adaptation, not his original script: theater-goers shouldn't come expecting the intellectual gymnastics of Arcadia. In keeping with the idleness of the men's days, the play itself has a leisurely and meandering pace; this is a very slow show. Heroes lives in its quiet elevation of trivialities, and though its pacing sometimes feels in want of more dynamic movement, the play's slowness and the poignancy of its carefully sustained banalities have rather grown on me. That the men's mortality is treated with such a light touch is itself a breed of heroism.
Megan Grumbling can be reached at mgrumbling@hotmail.com.


Read more: http://portland.thephoenix.com/arts/136630-portland-stages-comedy-about-hope-and-age/#ixzz1rZbJ981P
A young boy walks the railroad tracks with a delusional girl who lives alone in an old house. A poet reunites with his mother at the bottom of the sea. A wealthy, restless sorority girl is drawn to a working-class writer. And an elderly woman living with relatives who have come to despise her presence. These are the plots of works by a playwright most known for Laura Wingfield's glass creatures and Stanley Kowalski's mournful "Stella!" But that playwright, Tennessee Williams, created a large body of works that aren't often produced, and to celebrate his hundredth birthday, Portland Stage Company is staging a lyrical, beautifully produced pastiche of four of them. Sally Wood directs an ensemble of four actors in this world-premiere gathering of short plays, entitled Hidden Tennessee.
Audiences enter the theater to a projection of Williams's complete, intimidatingly long bibliography on the back stage wall, and shortly after the lights go down, we hear recited excerpts from his famously poetic stage directions, and see his words typed out in projection. This overture lovingly conjures both the span and texture of his life and work, before the cast gathers to speak ensemble-style of Williams's publications, awards, first use of the name "Tennessee," and other watershed moments in his career. These biographical interludes form the connective tissue between the four short plays of the show.
All four works have appeared on stage — three were originally written as one-acts, and one as a short story — but never in this particular theatrical constellation. Act one begins with This Property Is Condemned (which became a 1966 film with Robert Redford and Natalie Wood), in which a young boy, Tom (Justin Adams), gains a troubling glimpse into the poverty and illusions of a young orphan, Willie (the marvelously gamine Sarah Lord). The next one-act, Steps Must Be Gentle, channels Williams's own struggles with an overbearing mother, who did not approve of his work or homosexuality, into the very similar circumstances of American poet Hart Crane (Adams). In this experimental piece, published in 1980, only three years before Williams's death, Crane (who jumped off a steamship and died at the age of 32) reunites with his mother (Maureen Butler) at the bottom of a blue and diaphanous sea (Anita Stewart's set design is once again evocative).
Act two opens with an enactment of the short story The Field of Blue Children. Beautiful, rich Myra (a radiant Courtney Moors) is of a social stratum that doesn't generally mix with folks like Homer (Adams), who is working to put himself through college, and whose hands she watches intently crimping the pages of books. Their coming together rouses the transcendent emotionality of that age, manifested in a gorgeous climax when Homer leads Myra through the night to a field of blue flowers. Finally, the last piece of the show addresses the uneasy failures and insecurities of old age, when Aunt Rose (Butler, with wrenchingly sensitive pathos) has outstayed her welcome in rural Mississippi with her niece (Moors, who is sensual and nuanced, fluctuating between cruelty and guilt) and nephew-in-law (Adams).
The setting of each story is integral to its emotional ethos — long railroad tracks extending across the stage, an ethereally blue sea floor, cobalt dusk and the brilliant Pleiades in a college town, a rough cabin in a sun-baked yard — and Stewart's set design and Bryon Winn's elegant lighting are absolutely transporting. The ensemble, too, is excellent; these actors are dynamic, deft, and beautifully pitched to the intense desire, languor, and darkness that are a hallmark of Williams's work.
Hidden Tennessee's collection of works and biography has a prismatic effect that is a different theatrical experience from full immersion in a sustained narrative. It is a scintillating homage.
Megan Grumbling
---
Warming up to Portland Stage's Snow Queen
This week, we look at another theatrical alternative to the Dickens' ghosts. Portland Stage Company, which usually stages its own beloved Christmas Carol, mounts a different wintery classic this year: Hans Christian Andersen's epic struggle of warmth against chill, The Snow Queen. Anita Stewart directs a colorful and lively ensemble production of the fairy tale in which young Gerda (Lauren Orkus) journeys far, and mostly barefoot, to save her friend Kai (Ian Carlsen) from literal and figurative coldness.
Andersen's story starts with a goblin-like inventor (Tom Ford, maniacally) who creates a mirror that distorts reality, reflecting only the bad and ugly in good, beautiful people. When the mirror is accidentally shattered, its shards blow all over the place, splintering people's hearts and eyes and freezing them up inside. One piece ends up in the eye of Kai, the neighbor and best friend of Gerda, and he turns distant, calculating, and mean. When the snow flies and a glacially lovely mystery lady in white furs (Patricia Buckley, elegantly) comes through town, he hitches his sled to her sleigh and goes. She is of course the Snow Queen, believer in symmetry, order, and perfect control. She keeps him cold and numb in her palace, promising him the world and a new pair of skates if he can spell the word "Eternity" with blocks of ice, while Gerda makes her way north to find him.
As she does, she encounters a slew of characters and comic relief, including a robber princess (feisty Sally Wood), crow sweethearts (Ford and Buckley), a German intellectual princess (Wood again), and a faithful reindeer (Daniel Noel in a fur hat, adorably). Orkus and Carlsen are charming, spirited, and nimble, and the talented principal cast of Buckley, Ford, Noel, and Wood plays its range of silly and noble roles with gusto and good humor. They're supported by a larger ensemble of mostly younger performers, many of whom are local middle-school students, and who range brightly about as villagers, flowers, snowflakes, and more. Skillful, well directed, and beautifully costumed, they create vibrant and kinetic adventures along Gerda's journey: A raucous and slapstick band of robbers overtakes Gerda's sleigh; vain tiger lilies in exquisite petal hats gloat over their beauty.
As usual, Anita Stewart has designed an evocative series of sets, including the homey, warm-colored buildings of Kai and Gerda's village, which contrast starkly with the cold and cavernous ice palace. The show employs a range of theatrical devices, from the timeless blue sheet riffled like a river to digitally created snow projections. Some effects are so deliberately primitive as to seem like winks to the craft, such as the strangely featureless stuffed carriage men driving Gerda's sleigh, while others are surprisingly tech-endowed, like the amplified echo reverb that is the sonic status quo inside the palace.
The show also features music, composed and directed by Hans Indigo Spencer, and most of its lyrics come, interestingly, from the poetry of Emily Dickinson, who was a contemporary of Andersen's, though they were of different nationalities, never met, and seem to have been of completely opposite temperaments. It's a little strange at first to hear "Hope is the thing with feathers" issue from the mouths of a bunch of fresh-faced Scandinavians. But then again, Dickinson's singular aesthetic — her forms so stark and spare, her themes of both human joy and chilly, clear-eyed mortality — could be said to pose an interesting synthesis to this play's dichotomy of feeling and reason.
And as a holiday message, the play's message of love over emotional withholding is a fair fit with Dickens. The Snow Queen might not have quite the same nostalgia currency as does the tale of Scrooge and his ghosts, and in the slapstick of this production does at times feel a little more slight, but its spirit and its spectacle are nevertheless a force for warmth.
Megan Grumbling
By MEGAN GRUMBLING | October 5, 2011
At first, the snide narcissism of aged violin prodigy Erica Morini (Laura Esterman) is an insufferable drag to the 40-something violin restorer, Brian (John G. Preston), whom she's trying to hire. As she pokes fun at where he trained (not France or Italy, but Utah) and waxes arrogant about her Carnegie Hall debut at age 14, he rolls his eyes and glances longingly toward the door. But then he gets his first look at the reason she's summoned him to her Manhattan apartment: Her sacred Davidoff Stradivarius. And suddenly he's a man in love. His eyes and voice soften as he holds it, extolling the instrument's subtle "tool marks on the scroll" and its "original Crimenese red varnish." The violin brings these two very different artists together in The Morini Strad, a sweet show about art and unlikely friendship, beautifully produced under the direction of Paul Meshejian, at Portland Stage Company.
Erica has her own reasons for hiring the workman-like Brian, less a celebrity than other restorers in the string world, to repair her $3 million instrument, and in part, it's because he's not of her own rarified set — though extremely well-versed in the nuances of classical music, he's got teenage kids and a mortgage like a regular guy. We experience his and Erica's very different lives through Anita Stewart's excellent two-tiered set, a study in contrasts: Stage right is the high-ceilinged elegance of Erica's apartment, with its dark wood and dusty rose chiffon across a tall window; stage left and raised above stage level is Brian's cozy little clubhouse of a workshop.
These represent the worlds that Erica and Brian must transcend to come together in appreciation and, eventually, mutual respect and even camaraderie. Esterman, with her fine, sharp cheekbones and sharp gaze, is superb as the difficult and formidably arch Erica. She beautifully (and very entertainingly) balances the prodigy's Old World gentility and cultural snobbery with her sometimes profane irreverence, as she yells to a student (Falmouth Middle School student Seoyeon Kim, who plays live and very nicely) that in playing the violin, "one is not slicing salami"; as she pronounces Sotheby's "a brothel"; as she colorfully takes issue with the artistry of modern prodigy Joshua Bell: "What a load of crap. The man's up there having sex with himself."
As Brian, Preston poses a contrast to her in everything from posture — loose and just slightly bearish against the tiny and precise Esterman — to his casual, unpretentious diction, and he makes a convincing evolution of Brian's slow warm to Erica. Brian doesn't, as he puts it, go in for any "mystical musical crap," and Preston nicely balances that attitude with how genuinely moved the man is by Erica's art and the richness of the art itself. As Brian better understands Erica and her sacrifices as a child prodigy and woman artist — she pronounced at the age of 14, on her way to Carnegie Hall, that she'd never have children — their rapport evolves predictably but affectingly from tetchy irritation to bantering warmth.
Their friendship leads to both plot intrigue, over the fate of her Strad, and musings on the nature of an artistic "gift" and its role in a person's life. Willy Holtzman's script has some sharp and tender writing, and a couple of compelling devices for exploring Erica's experience. As her health declines and she vividly relives her debut from a hospital bed, we see violinist Kim, from behind and facing the footlights, through the backlit chiffon of Erica's window. It's a poignant revelation of both the intensity and the vulnerability of a life given entirely to art, and given from the very youngest age one can make the choice.
Megan Grumbling
---
Actors are concert pianists too, in PSC's
2 Pianos 4 Hands | Two roles

By MEGAN GRUMBLING | February 9, 2011

DOUBLE-TIME Actors and pianists both.
A good bout of slapstick goes on between tuxedoed pianists Ted (Tom Frey) and Richard (Jeffrey Rockwell) before they finally flip back their tails and get into Bach's Concerto in D Minor: First, they skirmish wordlessly over who gets to sit at which baby grand, and then they take some time to one-up each other's warm-up scales. Their foibles are practically vaudevillian, and so, as it turns out, is the trajectory of lessons and practice that got them to this point. We follow the musicians' progress from grade school through adulthood in the entertaining two-man comedy-cum-piano recital 2 Pianos 4 Hands, by real-life pianist-actors Ted Dykstra and Richard Greenblatt, and directed by Tom Frey for Portland Stage Company.

If you think comedy is all about the timing, consider how much timing it takes to play a Mozart sonata with somebody else. Or at all. As Ted and Richard learn their art, they have to contend with time signatures, metronomes, and examiners asking them to beat time in five with one hand and four with the other. Also often troublesome are key signatures and a dizzying array of chords to be identified by ear, the berating of various piano teachers and killjoy parents (all played by either Frey or Rockwell), and their own youthful yearnings to occasionally go play hockey or meet girls. Along the way we also get some interesting grace notes and quirky insider anecdotes. (I particularly liked how their Italian and French teachers illustrate contrasting national standards of virility by way of which arpeggio fingerings they advise.)

Most impressive in 2 Pianos 4 Hands — beyond, of course, the uncommon spectacle of two professional actors who can also breeze through major classical piano compositions — is how convincingly and unromantically it brings us into the minds of two aspiring young musicians. These are talented and driven kids, but they're also really normal in their complaints and shenanigans. What we experience vicariously through them is sometimes irreverent, like the rough-housing that goes on as the two boys play at the same piano, or a kid's-eye view of how a competition judge of unidentifiable foreign nationality keeps pronouncing "piece" as "piss." Other times, the experience is sublime: Watch for the joy of schoolboy Richard's epiphany when he realizes that his boring scale fingerings have a practical application in actual music.

Frey and Rockwell are sensitive to both sides of Ted's and Richard's relationship with music, and they're a real hoot, too. Their physical comedy at the piano — pulling the bench out from each other, slapping each other's heads in time, even giving wet willies, all while they are playing a sonata together — is top-notch, and their caricatures of teachers, parents, and conservatory directors are both funny and humane. They also do well in developing two distinct characters of Ted and Richard, particularly considering that a lot of the characterization happens while they're at the keys. Richard emerges as shyer, more sensitive, and more deferent, while Ted is more brash and prone to use words like "cool" around important conservatory superiors.

This all plays out on Anita Stewart's spaciously designed set, which focuses attention on the two gorgeous baby grands (lent to PSC by Starbird Music). Behind them are classical columns, the spaces between which lighting designer Gregg Carville fills with colors suggesting a range of moods and moments: A blue-sky brilliance as young Richard slaves away indoors at his practice; a slow fade from midnight blue to dawn's pink as the two men, now in their 40s, cap a long night of beer-drinking with a four-hand Bach concerto.

And their expressions while they play, at all ages, are perhaps the most revealing. Sometimes Ted sticks out his tongue in concentration or frustration. Sometimes Richard is contorted with the agony of his wrong fingering. Those moments just add power to the times that they're simply transported, when the whole theater hangs in the delight of their abandon.

Megan Grumbling
---
Review: John Cariani's Last Gas premieres at Portland Stage
Pursuit of happiness
By MEGAN GRUMBLING | November 16, 2010

FACED WITH CHOICES Life in Northern Maine, in Last Gas.

It's hard to get anywhere from Township 15, Range 8 — it's vast, empty, and hours from even Bangor. Up here, "the broccoli and potatoes go further than the people do," says Lurene (Kathy McCafferty), one of the people who did go far away, to her rut-stuck old flame Nat Paradis (the sweetly appealing David Mason), one of the people who didn't. When McCafferty's high-energy Lurene comes home from New York to bury her mother, throwing a wrench in Nat's birthday plans with his best friend Guy (Mike Houston), Nat has occasion to question the life he has quietly settled for. The challenge of where and in whom to find happiness, and how to shake up a time-worn m.o., is at the heart of Last Gas, a comedic drama by Maine native John Cariani that receives its world-premiere main-stage production at Portland Stage Company, under the direction of Sally Wood.

Last Gas is the second work that Cariani, a New York-based actor and playwright who grew up in Presque Isle, has premiered at Portland Stage: His comedy Almost, Maine, a series of whimsically interconnected love stories set in the fictional far-north town of Almost, Maine opened here in 2004 before going on to successes Off-Broadway and beyond. Cariani's newest work first came to Portland Stage in 2009, as a staged reading in the Little Festival of the Unexpected.

Almost, Maine and Last Gas are both quirkily comedic and both set in remote northern Maine, but this new work differs from the earlier in immediately visible ways. While the stage of Almost, Maine was wide, sparsely furnished, and occasionally dappled with magical realism, Last Gas brings us into the meticulously realistic minutiae of Paradis's Last Convenient Store (very echt set design by Anita Stewart), a setting that dominates the story and its 30-something, often sad protagonist Nat: His world is a modest bounty of candy bars, cigarettes, lottery tickets, whoopie pies, sodas in the cooler, smears on windows and door, and fluorescent lights that flicker on and off in listless, staggered sequence.

In the narrow space outside the store are bundled cordwood, blue washer fluid, and a vault of amber stars hinting at the wilderness beyond. Upstairs, in the light of the Pepsi sign, is a decent hovel of an apartment where slow-moving Nat, who runs the store, still lives with his man-about-town dad Dwight (an entertaining Tom Bloom, like a elderly marionette Don Juan in a leather jacket). The apartment sometimes also houses Nat's confident 16-year-old son Troy (Dave Register, with intelligent, steady candor), whose custody he shares with Cherry-Tracy, a comically persnickety forest ranger (Moira Driscoll, who hams it up, but later homes in sensitively on this woman's own ache). With weary gaze and slouch, Nat lets his dad, son, and mother of his son walk all over him, though he has an intensely loyal companion in his buddy Guy (whom Houston imbues with dry Yankee gravity, restraint, and — sometimes — passive-aggression).
Nat's story is more searching and serious than the breezy modern fairy-tales of Almost, Maine. At the same time, Last Gas reprises Cariani's comedic tone, and plenty of funny stuff tempers the inherent drama of Nat's damaged lot: "I'm better off inhibited," he tells Lurene to explain why he's not drinking, which gets a laugh even as it deftly sums up his general ethos. The script is peppered with sharp writing like this, nicely bridging humor and seriousness, but sometimes Wood's direction takes the comedic exaggerations so far as to create near-caricatures of its otherwise often poignant characters. Mason's Nat is drawn with so profoundly slow a speech and gait, in contrast to McCafferty's shrill and bird-quick Lurene, for example, that their re-sparked attraction sometimes seems not just problematic but an actual stretch.

Still, the universally talented actors of PSC's production all have moments of transcending the yuks. When they bring down the volume and the antics, they and Cariani's latest script succeed in elevating not just the slapstick but the dignity of the common dude, who's figuring out just in time what's in his heart.

Megan Grumbling can be reached atmgrumbling@hotmail.com.
LAST GAS | by John Cariani | Directed by Sally Wood | Produced by Portland Stage Company | through November 21 | 207.774.0465
---
Portland Stage's The 39 Steps works the funny bone
Comedy, not suspense
By MEGAN GRUMBLING | October 7, 2010

IN THE TRAIN CAR Creative staging and hilarity.

The driving force of Hitchcock's 1939 film The 39 Steps is suspense, as unwitting bachelor Richard Hannay gets caught up in espionage, train escapes, weapons technology, and the future of Europe and the world. In Patrick Barlow's stage adaptation, however, suspense is decidedly not the raison d'être. Instead, the focus is the chops of four actors who, between them, portray more than 100 of the spy story's characters. A farce of quick-changes and cross-dressing, the play affectionately sends up the tropes of the thriller film by putting it on stage, subjecting it to the theater's own limits and conventions.

Portland Stage Company takes the premise a step farther into meta-land by not just staging it in a theater, but setting it there (as a theater security guard falls asleep while watching the movie), and rakishly calling attention to an array of mannequins and Foley sounds, deliberately missed cues and actors slipping in and out of character: In this comedy, PSC's season opener, director Samuel Buggeln has chosen to send up both the screen and the proscenium.

If that seems a little muddy to you conceptually, you are already thinking way too subtly to appreciate this show. Instead, think slapstick gags and hyperbole, phones that ring off-cue and actors mugging for the audience. Paolo Andino unabashedly overblows leading man Hannay, posing and posturing as a caricature of the dashing hero on the run from the law. Likewise do the three actors who portray his nemeses and allies (Gardner Reed, as three differently accented women, and Torsten Hillhouse and Dustin Tucker in an array of comic duos) pull out all the stops to exaggerate the many types they play.

The gorgeous, dramatic, and very German Annabella (Reed, mellifluous and stunningly garbed by Loyce Arthur) slinks into Hannay's life at a music-hall show (a fine theatrical moment as she enters from the audience, down the steps of the house aisle in a white spot). Before she gets a knife in the back, she leaves enough clues to get him on a train to Scotland, there to meet an evil professor (Tucker) and sundry other hindrances.
They go pursuing and evading each other over a largely bare stage (set designer Anita Stewart features the theater's exposed-brick rear wall for much of the show), often creating their settings with the most rudimentary of devices: an automobile or a train compartment made of stacked crates, a fire made to crackle by a hand from the wings crinkling a piece of plastic. Most cleverly employed is a series of wardrobe racks on wheels, which the ensemble rolls around to indicate walls, doors, and windows.

At its best, The 39 Steps soars on the virtuosity of some very inspired stagecraft and witty parody, executed beautifully by the ensemble. In one exemplary scene, Hannay shares a train compartment, rendered by wardrobe racks, with two lingerie salesmen. Tucker and Hillhouse entertainingly play up these guys as the ultimate in irritating train companions — eating loudly, laughing at their own jokes — and the three perform a delightful little ballet of limbs and elbows in close quarters. When Hannay escapes through the train "window," the subsequent chase scene, Andino's body simulating the effects of the train's speed, is out of this world — a triumph of stagecraft in its purest form.
Beyond such highlights, though, the show is more or less a steady stream of gags and caricatures — funny and expertly carried out, but without much tonal change or investment in the stakes or substance of the story. If it's story — or suspense — you're after from The 39 Steps, get the form of it that they carry at Videoport. If you go to PSC's version, be sure you're going for the jokes.

Megan Grumbling
---
Organic farce
PSC's fugue-ish Bach at Leipzig

By MEGAN GRUMBLING | May 12, 2010

GRAPPLING WITH ART AND EXISTENCE Rival composers.


The Thomaskirche church, in Leipzig, is a hub of musical influence in Germany's booming Baroque arts scene. But one day in 1722, its music director suddenly takes a header onto the organ's middle range of keys (or, as one tart tongue pricelessly puts it, "The man performed his own dirge with his face") and leaves this world amid an agony of sustained dissonance. In his wake, a slew of brilliant composers — eight, in all — descend upon Leipzig, each hoping to be chosen as his successor. What follows is the intricate comedy Bach in Leipzig, Itamar Moses's literary rendition of a fugue, a musical composition in which a series of distinct voices are interwoven in point and counterpoint.

The voices of this dramatic "fugue" belong to distinct character types, each with his own philosophy of Lutheranism and music. Tom Butler plays the bright-eyed, forward-thinking idealist Johann Fasch, a stark contrast in both tone and stature to Tom Ford's stout, curmudgeonly, oft-rejected, and very orthodox Georg Balthasar Schott. Georg Lenck (the fetchingly wicked Colby Chambers) is the charismatic working-class scalawag; Georg Friedman Kaufmann (Daniel Noel, adorably) is the fool; Johann Martin Steindorff (a manic Dustin Tucker) is the blue-blood womanizer; and Johann Graupner (Ron Botting, with sensual pout) is the perpetual loser. As the men scheme, cajole, and parry — sometimes one-on-one, sometimes all at once — they outline the era's complex conversations about art and existence.

Director Samuel Buggeln's crackerjack cast is nimble, and Portland Stage Company's production is lavish as usual: Wilson Chin's set is an august forced-perspective white hall of the Thomaskirche, with high arched doorways arrestingly lit from the wings (Philip S. Rosenberg's lighting design), and Kris Hall has given gorgeous attention to detail in her period costumes. Throughout the show we hear Portland municipal organist Ray Cornils on the Kotzschmar Organ, playing transporting snatches of organ fugues.

The literary fugue that structures the play is meant to celebrate artifice, much like the elaborate art forms of the Baroque period itself. At the same time, Moses gleefully sends up his own artfulness by inserting a play-within-a-play, as Kaufmann watches — and critiques — the composers' endless exchanges as dramatic art. Written in an unabashedly punny and slapstick style (which includes, for example, running gags on the German music world's preponderance of Georgs and Johanns), all this plays throughout most of the show as complex but light, despite the gravity of the ideas about religion and art — free will versus predestination, content versus form — that it whizzes about.

Moses has been frequently compared to Tom Stoppard for the intricacy of his dramatic devices and his attempts to synthesize, through characters and comedy, big ideas across disciplines.
In Stoppard's best works, like Arcadia, he makes us care about and shiver at the complexities of big ideas through first caring about his profoundly human characters. Moses, in contrast, carries out his impressive intellectual exercise with caricatured characters that are cleverly drawn, but feel a little hollow; Moses ultimately engages our wit, not our empathy.But that's not to say that Bach at Leipzig is not devastatingly intelligent, structurally masterful, or deliciously entertaining, all of which it most certainly is — the script's wordplay and ironies are witty, often wickedly so, and PSC's scintillating production wants for nothing. "Surprising and inevitable," Fasch quotes the dead organist as having defined the perfect fugue. You can say the same about the joys of a great farce, and Bach at Leipzig plays it out over dizzying octaves.

Megan Grumbling can be reached atmgrumbling@hotmail.com.
BACH AT LEIPZIG | by Itamar Moses | Directed by Samuel Buggeln | Produced by Portland Stage Company | through May 23 | 207.774.0465

---
Sins of the father
Visiting the son in 'Master Harold'
By MEGAN GRUMBLING | March 10, 2010

DISCOVERING HIS SWITCH Flipping from joy to rage and back.

On a rainy afternoon, Hally, short for Harold, (Michael Littig) comes home from school as usual to his wealthy parents' tea room in apartheid-era South Africa. It is being cleaned, as usual, by the middle-aged black servants, Sam (Charlie Hudson III) and Willie (Daryl C. Brown), who have been looking after him all his life. But after some familiar banter (Hally and Sam memorably debate history's "men of magnitude" — Hally names Darwin, Sam names Jesus, and they finally agree on Alexander Fleming) a wrench is thrown into this ordinary day: Hally learns that the crippled, alcoholic father he despises will be released from a long hospitalization, and will ravage Hally's recent peace at home.
The upheaval that follows is the coming-of-age trauma of Athol Fugard's "Master Harold" and the boys, in which a black man helps a white boy confront his shame, his family demons, and the conscious and unconscious bigotry that he has inherited. Fugard's powerful and elegant script receives a resonant all-Equity production by Portland Stage, under the fine direction of Rajendra Ramoon Maharaj. Here in the tea room (a gorgeously rendered, high-ceilinged set by Adam Koch, with narrow front windows, simple tables and tile, and, painted on one wall, a huge, tight-grinned man with a glass of beer) between Willie's waltz practice and Hally's homework, a devastating maturation takes place in a mere hour and a half of real time.

In this time and place, everyday culture is steeped in casual violence, and early in the play we see how cavalierly all three characters accept and even laugh about it: Willie beats the woman he dances with, Hally is beaten by his teacher, and Sam talks of how prisoners are beaten in the prisons. What's horrifying about their talk is not just the abuse itself, but its banality in their lives, and our recognition of how easily, how thoughtlessly it is perpetuated.

Likewise is it almost unbearably vertiginous to watch the wavering of Littig's Hally between identities, between a sensitive, troubled boy and an autocratic bigot of a man. The latter is a defensive reaction to the turmoil of the former, and both are inflicted by the role models of his white world. But though he might not know it, Hally has other role models in these spirited black men, particularly the generous, wise, quick-grinning Sam. Now on the cusp of manhood, however, Hally veers from horsing childishly around with them to calling them "boys" and ordering them back to work. And as his anxiety grows about his father's return, and as Sam and Willie wordlessly witness more and more of the boy's weakness, Hally's unconscious racism becomes deliberate and cruel, exactly after the style of his despised father.

Littig is superb, nerve-wracking, as he navigates Hally's liminal psychic place. He is taut, twitchy, wound up with energy and ready at any moment to spring. In his sudden moments of communion with Sam and Willy, he bounds, bounces, and pumps fists in the air, but then swerves just as quickly into dangerous stillness or rage. His Hally is a revealing and frightening illustration of how fear and shame can callous into hate.
As the two men who have watched Hally grow, Hudson and Brown make fine, subtle work of the guarded forbearance with which Sam and Willy must observe Hally's prejudices. Their eyes and bodies acutely balance wariness and joie de vivre, stopping on a dime between postures of servility and delighted sweeps of dancing. Hally doesn't realize all he might learn from them as hurt hardens him more and more into his father's son, until Sam's anger and compassion finally trump his restraint. And then, in a monologue by Hudson that makes the whole house quake, Sam finally tells Hally exactly what he sees. It is devastating, and it is the only place to start.
Megan Grumbling can be reached at mgrumbling@hotmail.com.
"MASTER HAROLD" ...and the boys | By Athol Fugard | Directed by Rajendra Ramoon Maharaj | Produced by Portland Stage Company | Through March 21 | 207.774.0465
---
Campy send-up
Irma Vep mocks show biz
By MEGAN GRUMBLING | February 3, 2010

Mandacrest's groundskeeper, Nicodemus, sympathizes with Jane, the estate's longtime housemaid: "You do the work of three people." The two exchange a meaningful glance. There is indeed much to handle in this manor on the English heath — a haunted, widowed Lord; his yearning new Lady; a remorseful werewolf; and what may or may not be a vampire. But the look that the two actors give each other is rooted in a more meta commiseration: Between the two of them, they're doing the work of every man, woman, or creature in the manor. That is to say that two men do a lot of quick changing in Charles Ludlum's modern camp classic, The Mystery of Irma Vep. Portland Stage Company's excellent, giddy production, directed by Christopher Grabowski, stars Tom Ford (who portrayed some dozens of characters in PSC's superlative I Am My Own Wife) and Steven Strafford.
Playwright Ludlum founded the playful, gender-bending underground "Theater of the Ridiculous" in '60s downtown New York. As his theatrical m.o. had it: "Theater of the Absurd refused to take anything seriously. . . . Ridiculous takes everything seriously." Indeed, the hyper-referential Irma Vep draws on horror movies, cheap Gothic romances, and transvestism, as well as Shakespeare, Poe, and the Brontës; it is a brilliant spoof of and homage to the whole cultural shebang, the "highs" and the "lows" of our theatrical urges.

It is also a hilarious romp, and these two gifted actors pull out all the stops. Ford outrageously fawns, trills, and curtseys as Lady Enid, then re-enters hobbling and leering as the peg-legged Nicodemus. Strafford mopes and gazes wittily as Lord Edgar, and is a particular, deliciously snarky gas as Jane, who, in a long, black wig, is a Gothic-transvestite mash-up of Agnes DiPesto and Iggy Pop.

Ford and Strafford are also so quick to change between their characters that it would be easy to suspend disbelief, and to accept each entrance as that of a whole new actor. But what a shame that would be. Instead, they make a glorious show of reminding us: They adjust wigs, cue each other, break into anachronistic song, and — best of all — break character to indulge in smirks at dirty double entendres and homoeroticism. ("How do you take your meat, miss?" asks Jane of Lady Enid.)

Likewise does the stagecraft love to flaunt its own tricks. Though the sound of rich strings often rises with the action (Greg Carville's luscious design), and though the manor's drawing room is gorgeous and elaborate (Anita Stewart has once again outdone herself), the show also delights in its simplest devices: tin-can footlights; a curtain lowered almost to the stage floor to create the crawl space of a tomb. And when Lord Edgar and his guide Alcazar stride off (in place) across the Egyptian desert, knee-high pyramids on the "horizon" retreat behind them.
PSC's Irma Vep is a virtuoso roasting of show business. When the attractions include a bleeding painting, '70s pop music, a punny virginity joke, and even a little soft-shoe, you have to agree there's no business like it.

Megan Grumbling can be reached at mgrumbling@hotmail.com.