Phoenix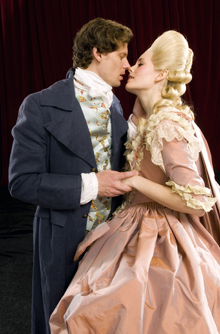 BEFORE HER HEAD CAME OFF Behind the scenes with Marie Antoinette (Ellen Adair). Photo by Darren Setlow.
Though there's no hard evidence that Marie Antoinette actually uttered "Let them eat cake," she remains a larger-than-life symbol of ruling-class decadence and a culture of gaping wealth disparity. Any of that sound familiar? In Joel Gross's Marie Antoinette: The Color of Flesh, we see Marie (Ellen Adair) through the love triangle she forms with her portraitist, the social-climbing, nouvelle riche painter Elisa (Caroline Hewitt) and the lover of both women, Alexis (Tony Roach), an aristocrat infatuated with revolution. Though both Elisa (modeled on the real-life painter Élisabeth Vigée Le Brun) and Alexis exploit the Queen for their own purposes, they also come to love her. And as Elisa spends years perfecting the representation of her skin on canvas, she learns more about how to understand what lies beneath its surface. Daniel Burson directs an elegant production of this period drama, with an excellent, all-Equity cast, for Portland Stage Company.
Flesh unfolds over the last two fraught decades of the French monarchy, 1774 to 1793, most often in the famously opulent palace of Versailles. Anita Stewart's beautifully restrained set design conjures the court in spacious, imposing gray heights of columns, arched windows, and a terrace, the details of which — carved filigree, fluting — are sketched in loose strokes that create an interesting intimacy and subjectivity toward the grand setting. The contrast echoes the drama's concern with the human passion and need at play within larger systems and political movements, as Marie, Elisa, and Alexis negotiate their desires and loyalties as events build toward the revolution's Great Terror.
We all know what happens to Marie. The plot of Flesh turns instead on the complicated interplay of its characters' motivations. While all three are portrayed sympathetically, each has a distinct blind spot, bias, or illusion, on account of upbringing and cultural circumstance: Elisa, who has climbed her way up from nothing to become the Queen's portraitist and confidante, thinks little of the class she rose from and is a staunch monarchist. Though Alexis is in love with democratic ideas about the common man, he has never, as Elisa chides, actually met a peasant. And Marie — torn from Austria at 15 and thrust into a loveless marriage (unconsummated for seven years), a culture of decadence, a political world to which she had little access or aspiration, and utter removal from her common people — took to her fateful partying, Flesh suggests, as a form of self-medication.
All three actors in the triangle are superb. Hewitt's diamond-sharp Elisa is scintillating; Hewitt exquisitely conveys the artist's ambition, impatience, and ardor, and she butts heads bracingly with Roach's earnest, romantic Alexis. Against Elisa's quick brilliance, Adair's Marie comes off endearingly as the rather unexceptional person some scholars suggest Antoinette was — an ordinary person with her own insecurities and petulance (her plaints about sexual encounters with Louis XVI are comically cringe-inducing) forced into extraordinary circumstances. She is incapable of grasping either Elisa's or Alexis's warnings about her degenerating public image, about the need to empathize with her people, or that, as Alexis insists, "It is not a sign of health that the rich are getting richer."
Though the script occasionally suffers from clumsy exposition and heavy-handedness, it poses some thoughtful ideas, particularly the perennial question about the role and responsibility of art in the world. When he returns injured from America's war, Alexis takes sensualist Elisa to task for caring so deeply about beautiful surfaces, flowers, fabrics, and coiffures, when people are starving in the street: "What kind of artist," he demands, "sees nothing of the world?" By the end, she finds that her art has evolved in her ability to convey her prison-ravaged subject's interior nature in the painted skin. What she's begun to learn is empathy, the understanding of a person's inner complexities. It's something only learned up close, in not just palaces but prisons, in people of different walks and fates actually talking to each other. A little more of it, across the board, might have saved a few heads.
MARIE ANTOINETTE: THE COLOR OF FLESH | by Joel Gross | Directed by Daniel Burson | Produced by Portland Stage Company | through May 20 | 207.774.0465


Read more: http://portland.thephoenix.com/arts/138720-cautionary-tale-from-18th-century-france/#ixzz1v9cJVf00

Read more: http://portland.thephoenix.com/arts/138720-cautionary-tale-from-18th-century-france/#ixzz1v9bxrUiu